WORKS IN WORDS
<Versione Italiana>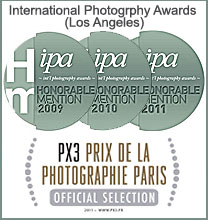 Somewhat inevitable, perhaps, to find as a starting point that typically modern sense of existential and intellectual estrangement; yet juxtaposed to this, and with no small sense of uncertainty and risk, a kind of desperate reaffirmation of immediacy and fundamental human values - or better, those of sentient beings; as if by magic or sheer practical utilitarian necessity: The bonds of loved ones, compassion, religion even as a lingering doubt or a nagging innate sense on the part the most atheistic and secular. Sources for these reflections are chiefly: the animal kingdom (of which, we are plainly all too much a part of), the religious iconography (especially the more primitive and totemic: wood carvings, icons etc.), musicians in their role of shamanic go-betweens, lightning rods for our suffering. An attempt is therefore enacted, at side-skirting and moving beyond the more sterile of prevalent contemporary dialectic modes: as much the privileged and scientific observational view point, enumerator of neurons atoms and bits, as the solipsistic refuge, as the aesthetic gamesmanship.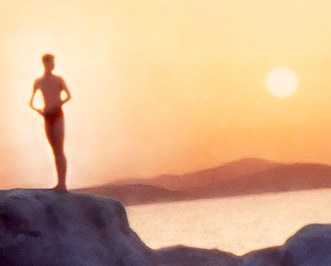 Indeed, such a direct - at times lyrical, vein might well be construed as traditionalism by the less attentive, inclined as we are, nowadays, to take for granted the current penchant for aggressive formal upheavals and an ever more lateral or conceptual expressive idiom. However, at a more skilled and forward-looking reading, and from the very titles on, there may emerge (such is hope) an artistic intent that is, in fact, clearly contemporary and clearly resolute, cognisant of both current and passed sensitivities, but consciously set on reviving the cathartic role of the medium and certifying both its sense and survival, with a marked emphasis on instinctive and less conceptual narrative content, and a visual innovativeness that is, above all, natural. True it is that the modern viewer is often anxious to get to the point or to see reflected her own complexity, or, moreover, he has sometimes boarded the train already in motion, and not at the station, but she is equally, more than ever in need of a new poignancy that goes beyond the trite defeatism and detachment of the relativist mindset, the egocentricity, the tiresome newness at any cost: increasingly lamented determinants of a deafening self-referentiality in contemporary artistic discourse.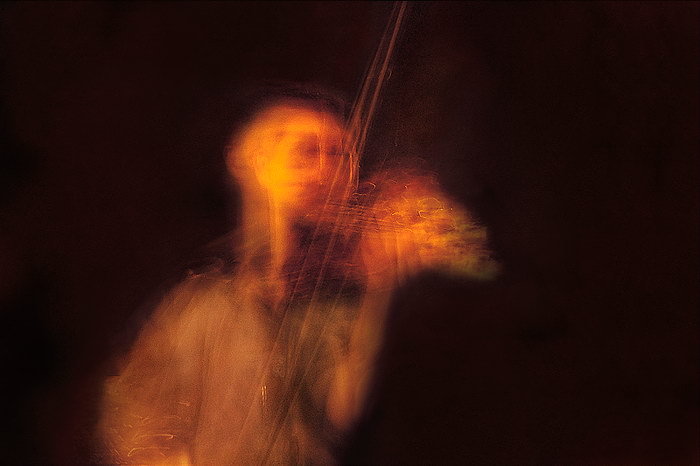 Manouche
Pigment print on Innova Smooth Cotton paper
70X50cm (45x29cm)
2006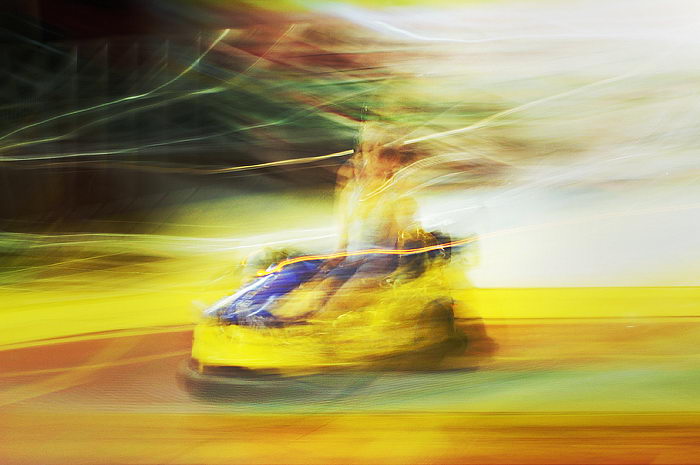 The Age Demanded (an Image of its Accelerated Grimace) I
Pigment print on Harman baryta paper
70X50cm (45x29cm)
2007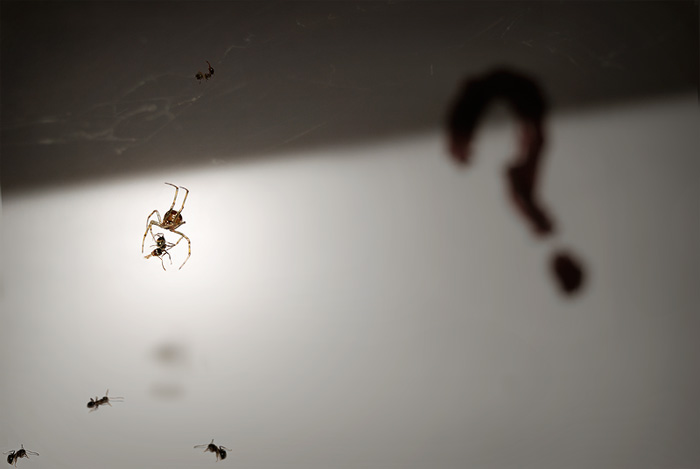 Deus Ex Machina
Pigment print on Schoeller Glacier paper
70X50cm (45x30cm)
2008
Legacy - State I,II,III (Triptych)

"...elsewhere, figures appear gathered around a family table where what seems to
be the elder head is attempting to stand up, leaning on his cane..."

"...The links that bind us, and their cost, are unchanged through the ages. Though we are more than ever inclined to take cover under temporary illusory shields, in fact there is nothing that goes beyond or breaks the inherited ancient conceptions and settings of our consciousness..."

"...There is also usually the opportunity afforded to develop concurrently a secondary theme, or perhaps one might call it a method, equally of great interest to me, namely that of motion or flux, which here is a means of grasping at a kind truth: one can hope to glimpse in certain moments, not only a sense of immediate consciousness or of memory, but also something of a final unavoidable brick wall and, mostly through luck, a subject's fear of it...."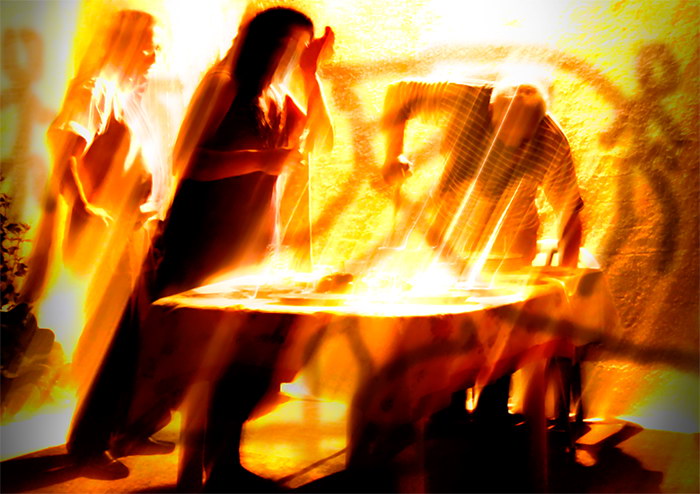 Legacy – State II (Triptych)
Pigment print on Hahnemühle Rag paper
70X50cm (42x28cm)
2006
Petrella - Inward Mask I
| | | |
| --- | --- | --- |
| "...Musicians are, in my perception, pre-eminently tragic figures and the noises that emit from their instruments or mouths very much an attempt at self-exorcism, an outpouring of suffering; the listener's participation being none other a form of commiseration, or an equal attempt at catharsis. This is perhaps a way to explain an enduring fascination, and why the moment I am often trying to capture and portray is that in which the player, more than a high priest in a time-honoured ritual, is something of a beast awaiting slaughter or a condemned man singing a final cacophony that might save his life..." | | |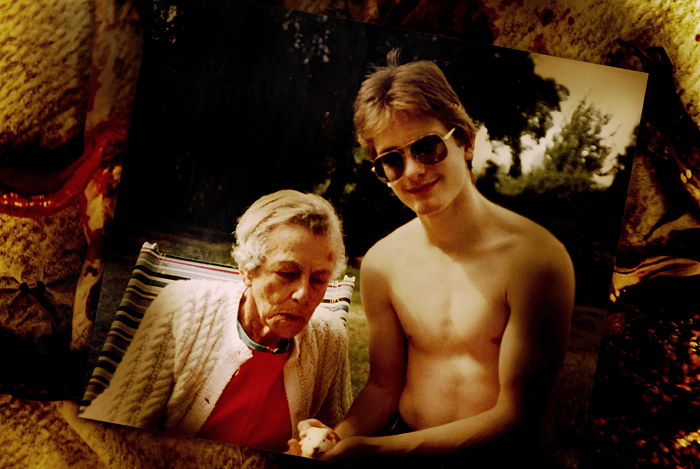 Epiphany
Pigment print on Harman baryta paper
70X50cm (45x30cm)
1992-2011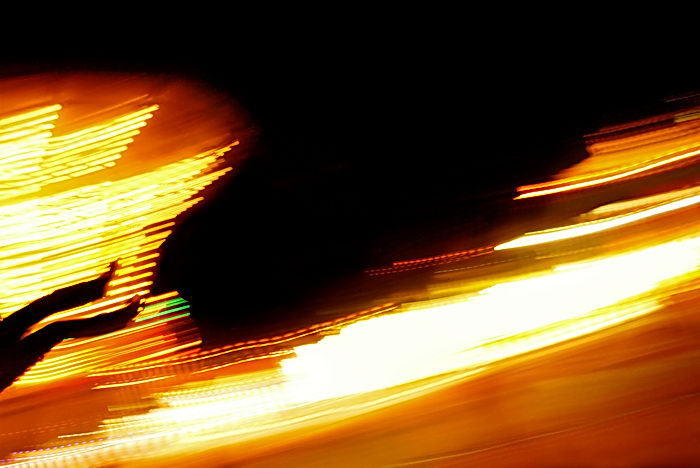 New Millenium I
Pigment print on Harman baryta paper
70X50cm (45x29cm)
2009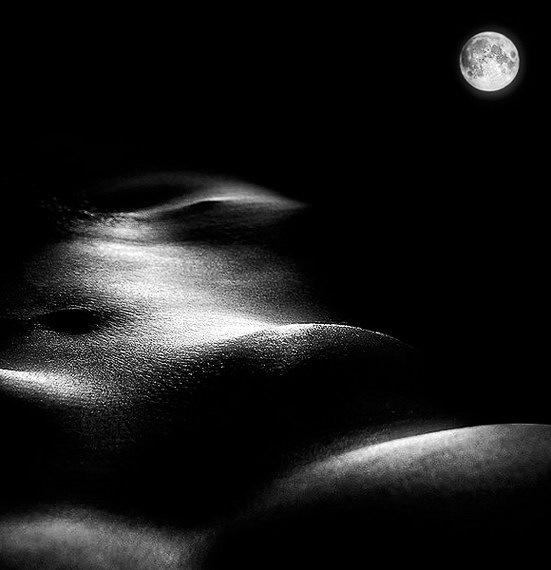 Landscape I
Pigment print on Innova Ultra Smooth Matte paper
50X70cm (30x31cm)
2006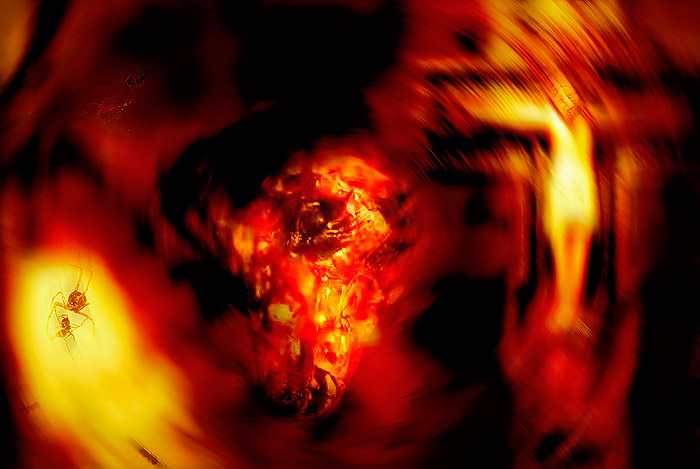 Trinity: Mystery of Martyrdom
Pigment print on Harman baryta paper
70X50cm (45x30cm)
2006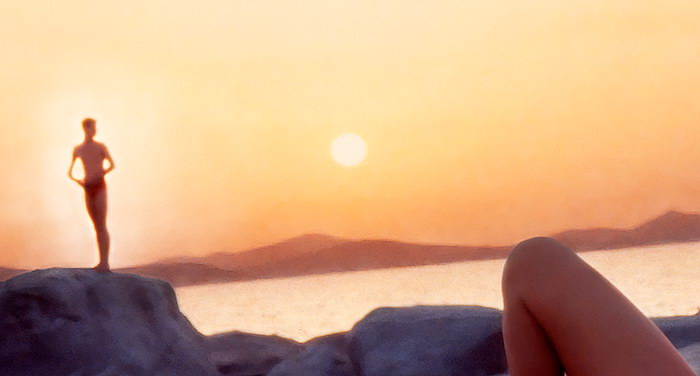 Eden Song
Pigment print on Hahnemühle Rag paper
70X50cm (45x25cm)
1999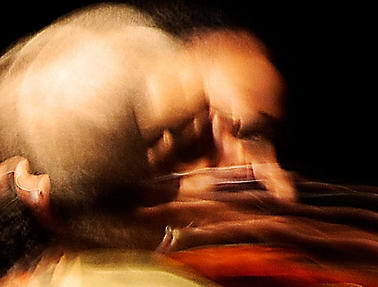 The impulse for embarking on these new transfigurations, expressionisms, romanticisms, is plainly instinctive, yet finds programmatic correspondences, in a view that is anything but new and is the subject of increasingly restless murmurs from various quarters: namely that the outright negation of the concept of transcendence, and similarly a distrust of any shared reality and values, are the basis for a practical impoverishment of modern life, and in turn also of artistic discourse; the inevitable point of arrival of a civilization, that for all its heights of achievement, is more or less insidiously and imperceptibly pervaded by a background noise of bite-sized notions, that, in a more appropriate learned context, might well have a certain intellectual relevance, maybe even accompanied by an evaluation as to the sense in their practical application, but instead reach us awkwardly detached from their original academic mainspring: relativism, individualism, the easy and amateurish mechanicalism inherent in consumer culture, the notion that every altruistic act has selfish implications and so on and so forth. Notions that, in such a format at least, can be easily unmasked, by more adept thinkers, as the foolish intelligence of beings grown far too complex for their own good. Who, other than experts in the field, might be in a position to ask why rational luminaries such as Wittgenstein, whose enquiries actually centred on the limits of knowledge itself, had in the practicality of life as lived,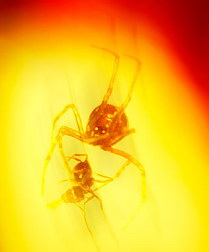 a deep respect and attraction for the religious or transcendent sphere, whatever the clear impossibility of any valid role for it in an epistemological framework?

</font>Formally, the digital medium is here a means to bridge the gap between photography and painting or etching, at least as far as the strictly visual effect is concerned, drawing freely from the sensitivities of all such disciplines. As mentioned earlier, the inquiries aim for an innovativeness that is unforced and employ an array of visual tropes, both contemporary and revisited, but above all at ease with the possibilities of the digital method, without any claim or obsession with technical prowess at digital manipulation. It is evident how certain expressive approaches are favoured, but with no intent to evolve a specific and recognisable style, which at times emerges and at times dissolves. The prints are executed with much care on a wide variety of photographic and traditional paper materials.
(Adaptated from Soundings brochure)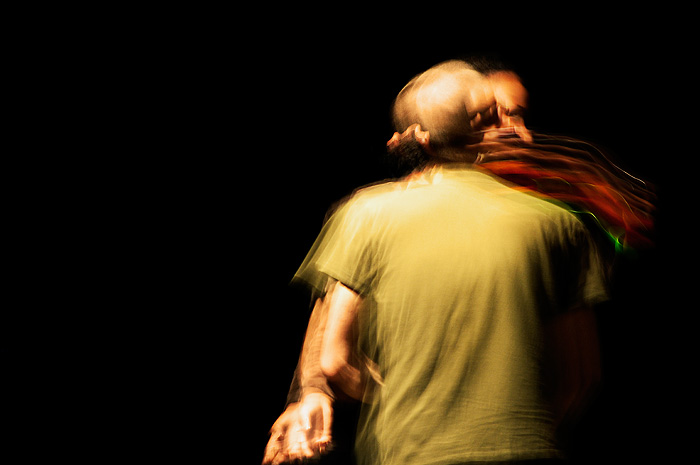 Boy and Girl (Heart of Darkness)
Pigment print on Schoeller Glacier paper
70X50cm (45x30cm)
2007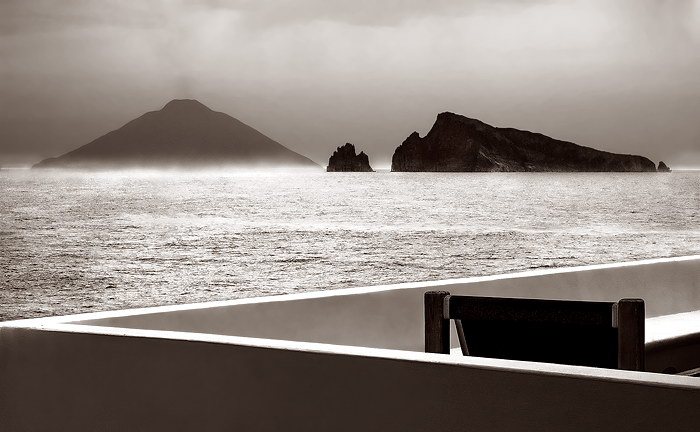 View
Pigment print on Harman baryta paper
70X50cm (40x26cm)
2006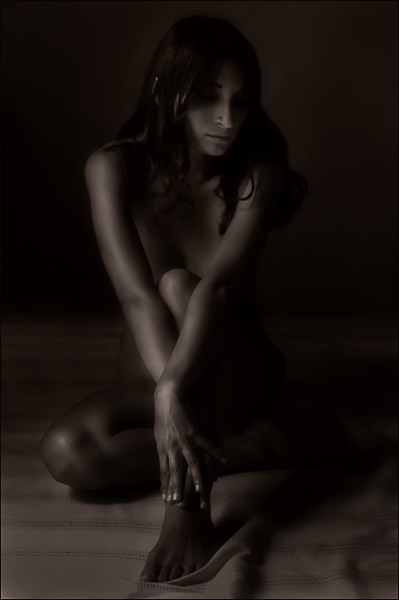 As Ophelia
Pigment print on Harman baryta paper
50X70cm (25x40cm)
2006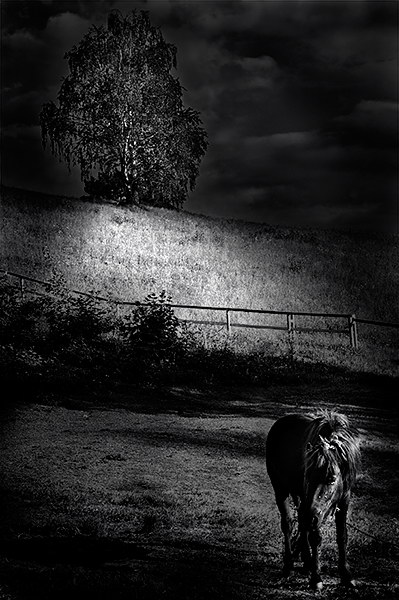 Self-Portrait I
Pigment print on Harman baryta paper
50X70cm (28x45cm)
2007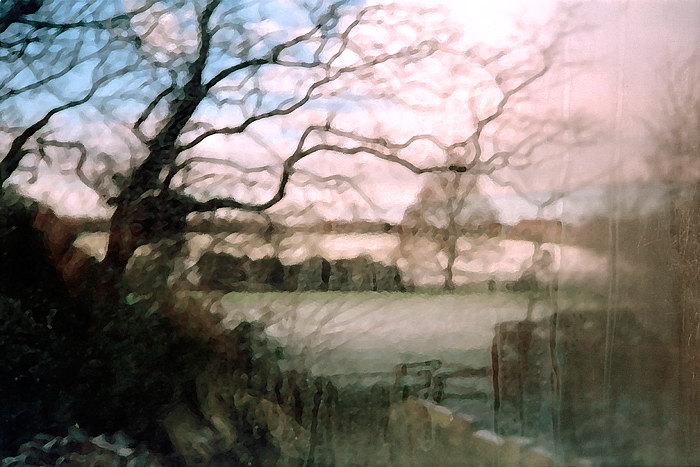 A Thought for England
Pigment print on Hahnemühle Torchon paper
70X50cm (45x30cm)
1996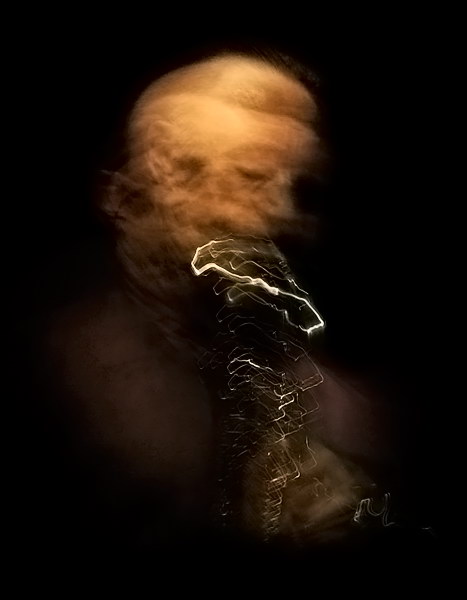 Vertebrate
Pigment print on Harman baryta paper
50X70cm (25x30cm)
2006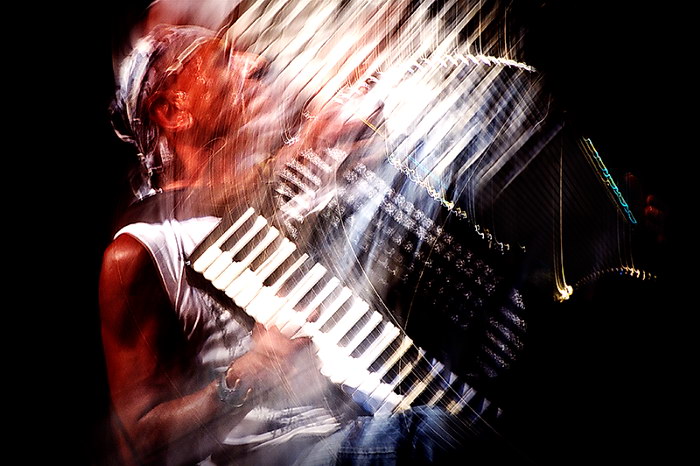 Salis
Pigment print on Harman baryta paper
70X50cm (45x30cm)
2007


The Fugitive
Pigment print on Harman baryta paper
70X50cm (45x30cm)
2007
BIOGRAPHICAL NOTES

The photographic works of Gregory Thine (formerly known as Rebus, an internet nickname), are the subject of increasing attention in recent times. Recognition includes an Honourable Mention at the International Photography Awards 2009 (Los Angeles), three more in the following year (IPA 2010) and another in 2011 (IPA 2011), as well as six Official Selections at the Prix de Paris de la Photographie 2011. The solo exhibition Soundings (2008) was also well received. Born in Oxford, England, he grew up in the city of Vicenza, in Italy. Earliest endeavours and formal studies in the field of photography date back to 1988, mainly in 35mm black and white, including development and printing (Leica M2 / Durst M605), but also extending into cibachrome. Wary of the digital revolution at first, by 2001 he had moved to adopting the hybrid analogue-digital approach involving drum scanning of slides and negatives, finally making the full transition to digital relatively late, in 2006.
CONTACT
email: gregory.thine (((a))) rebusart.net
Copyright ©1988-2014 Gregory Thine.
All rights reserved. All unauthorised reproduction prohibited